Ah, the movies… what can't they teach us? Here at Success at School, we've looked to Hollywood once in a while for careers inspiration, and today we bring together some articles to inspire you too.
And as an Easter egg, we've included a guide to careers in film and TV in case you're really serious about the silver screen.
1. Jurassic Park
Everyone's fave dino rampage has a surprising range of career options for you to contemplate.
From chaotician and geneticist to palaeontologist and entrepreneur, we take a look at some of the amazing career paths you could tread and what it takes to get there.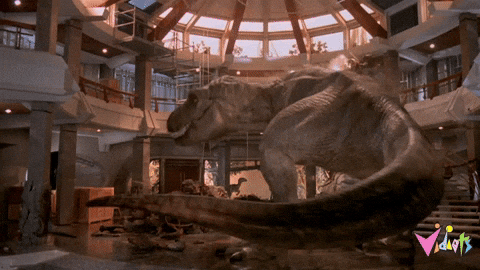 2. Stranger Things
If you lived in Hawkins, Indiana, what would you do for a living? Would you be the county sheriff, a private investigator or a science teacher – or would you work at the town's secret laboratory, trying to break through to new dimensions.
The story's far-fetched but the jobs are for real. Check out our guide to decide what you would do. Or perhaps keeping a lid on the Upside-down would be enough to keep you busy…
3. Game of Thrones
In this guide, we step through the fourth wall to take a look at the backstage magic that made everyone's favourite sword-and-sorcery adventure come to life.
Could you train and look after the real-life creatures that appear on screen? Or maybe you would help with the elaborate makeup needed to make some of the series' more fanciful creations come to life. Or you could use your linguistic prowess to come up with entirely new languages for the peoples of Westeros to speak.
4. Star Wars
The action may unfold a long time ago in a galaxy far, far away but there are careers counterparts for many of the roles in the Star Wars universe. Would you be a rebel fleet pilot fighting the evil Empire? Or maybe your skills are better suited to interpreting the millions of languages which are used across the Star Wars galaxy.
Don't be a nerf herder. Check out our guide to see if there is something for you.
5. The Oscars
What can we take from the trials and tribulations of the most memorable on-screen characters? The Fly shows us in graphic detail that all work and no play can lead us into a very sticky situation, while in Gandalf the Lord of the Rings teaches us the value of a good mentor. Check out the guide for five quick tips!
Easter egg: Careers in TV and film
The movie industry wouldn't be what it is without a whole host of skills, from the artistic to the technical – there really is something for everyone.
So whether you could be a lighting technician, a broadcast engineer, a researcher or a production designer, this guide gives you the basic information you need to get started in your movie career.